Our Veterinarians and Staff
Dr. Rachel Keyser, D.V.M. and Raina
Veterinarian - Owner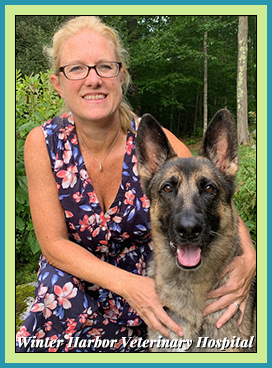 Dr. Rachel Keyser hails from Bourne, Massachusetts on Cape Cod. She received her undergraduate degree from Bowdoin College in Maine and graduated with honors from Tufts School of Veterinary Medicine in 1997. She is currently licensed to practice in New Hampshire, Maine, and Massachusetts, and is also a member of the American Veterinary Medical Association and the New Hampshire Veterinary Medical Association. Dr. Keyser purchased Winter Harbor Veterinary Hospital from Dr. Wing in January of 2018. She hopes to continue the hospital's great service to the community and its pets.
After graduation from veterinary school, Dr. Keyser started as a mixed animal practitioner, treating everything from dogs to horses and cows. She now concentrates on treating primarily dogs and cats, with a few "pocket pets" thrown in. She started working at Winter Harbor part-time in June 1997 and after a few years, became a full time associate and now, the new owner.
When she's not working, Dr. Keyser fills her time with activities with her two young daughters, Grace and Hope, and her German Shepherd, Raina. Last year they added a new member to the family - Trigger, a handsome orange tiger cat. They currently reside in Moultonboro. Rachel is an avid runner, but also finds time to squeeze in a Spin or Kick-boxing class. Her hobbies include gardening, scrapbooking, cooking, and spending time with her girls at the beach – lake or ocean.
Dr. Peter Roy, D.V.M.
Veterinarian
Dr. Roy is a second generation Veterinarian, following in the footsteps of his father Dr. William E. Roy. Peter grew up in a suburb of Springfield, MA, often spending summers on the family's dairy farm in the Finger Lakes region of up-state New York.

Dr. Roy received his Bachelors of Science in Biochemistry from UMASS at Amherst, and graduated from Tufts School of Veterinary Medicine. After graduation, Peter worked at a veterinarian hospital in Boston for many years also volunteering his time in the evenings at the inner city free vet clinic.

He and his wife moved from Boston to Southern RI in 1993, where Dr. Roy worked at the same practice for over 28 years. His clientele included three generations of family members and several breeders. Dr. Roy is passionate about his chosen career and loves to integrate into the bond between pets and their families as a caregiver and advisor.

Peter and his wife have vacationed in Wolfeboro for almost 30 years and they bought property here 8 years ago with the intention of living and working here full time. Dr. Roy is looking forward to becoming part of the Winter Harbor Veterinary Hospital team and the Wolfeboro Community at large.

Peter is an outdoor enthusiast, participating in many activities including hiking, biking, boating, skiing, and others. He also loves woodworking and home renovations. Currently the father of two senior rescue bulldogs, Vinnie & Betty, he has had a myriad of beloved pets over the years.
Dr. Geoff Clark
Veterinarian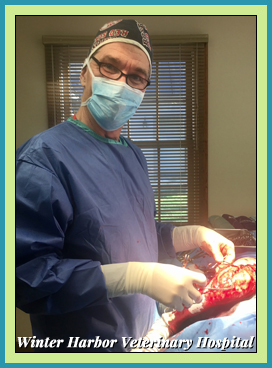 Dr. Clark is a 1986 graduate of the University of California Davis School of Veterinary Medicine. He completed an internship at the Animal Medical Center in New York City and then completed a residency in Small animal surgery at Tufts University School of Veterinary Medicine. Dr. Clark became board certified in surgery in 1992 and became a staff surgeon for 5 years at the Animal Surgical Clinic of Seattle. Upon returning to the Northeast in 1996, he joined the staff at Dover Veterinary Hospital in Dover, NH. In 1999, Dr. Clark started Veterinary Surgery of New England, a mobile surgical referral practice based in Durham, NH. He provides on-site orthopedic and soft tissue surgery services at veterinary hospitals in NH, southern ME and northeastern MA. He has also been providing surgical services at the Capital Area Veterinary Emergency Service. Dr. Clark provides surgery services on our orthopedic and complicated soft tissue cases at Winter Harbor Veterinary Hospital as needed.
Dr. Clark resides in Durham, NH with his wife, Mary, and daughters, Olivia and Juliet. Their home is shared with two cats named Simba and Apollo, an English Setter named Willow, and Francis the Wonder Pug.
Mary Ellen Smallidge, Technician and Brooke
Technician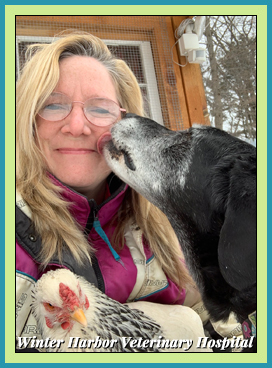 Mary Ellen grew up in New Jersey. She started her career in the animal field as a groomer at the age of 15. She attended college in Massachusetts, graduating with an associate degree in Animal Science in 1985. Following this accomplishment, she worked at a humane society for 2 years grooming animals for adoption. In 1987, she moved to Wolfeboro and joined the Winter Harbor Veterinary Hospital when it was still in its infancy and has been with us ever since. Mary Ellen has become an experienced veterinary technician and an intricate part of the day to day operations of the hospital. She does all of the purchasing for the clinic but most of all, enjoys making a difference in the lives of owners and their pets by being there for them when they need it the most. After more than 30 years, she still loves her job. If you need a shoulder to lean on, you can always count on Mary Ellen.
Mary Ellen lives in Wolfeboro with her husband, Scott, and her son, Austin. She also has a grown stepson, Wes, who lives nearby with his family. In her spare time, she enjoys gardening, shopping and her newest endeavor is her flock of seven chickens. It's life's simple things that make her happy.
Sheri Martin, Technician and Cam
Technician
Sheri joined the Winter Harbor staff in 2014 after graduating from the University of New Hampshire with an Applied Associate in Animal Science. She also obtained her Bachelor degree in Psycology. Sheri has a rabbit, fish, a crazy cat she adopted after it was found as a stray, and a geriatric adoption from the Lakes Region Humane Society. In her free time she enjoys hiking, gardening, reading, and attending yoga class. Her sense of humor is a welcome addition to the hospital.
Amanda Chase, Technician and Uli and Trillium
Technician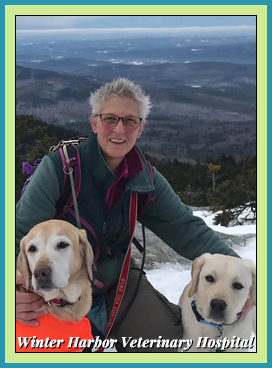 Amanda Chase is a native of New Hampshire, originally from Hampstead. She graduated from Derryfield School in Manchester and attended Virginia Intermont School in Virginia and the University of New Hampshire Thompson School, where she graduated with an associates degree in Applied Animal Science in 1985. She moved to Ossipee in 1986 and eventually to Wolfeboro with her two daughters in 2000. Amanda has been at the Winter Harbor Veterinary Hospital since 2001. Because of Amanda's extensive retail history, she loves to be at the front desk helping clients. You can always count on her to give you a call to follow-up on how your pet is doing. Her easy going approach to life, caring attitude, and attention to detail make her an important part of our team.
A lifetime animal lover, Amanda has had horses, goats, and chickens in the past, and is now the proud owner of Uli, Trillium, and Ness. In her free time, Amanda enjoys spending time with her two grown daughters, Hannah and Rachel, as well as her "grandpuppy", Nikita, all 4 pounds of her!! She loves to hike with Trillium and her friends (human as well as canine!) She has successfully hiked all of the NH four thousand footers and is planning to hike many more mountains.